Friends meet friends and make new ones!
Kokopelli Beer Company is the first solely woman owned and operated brewpub in the state of Colorado.
Located in the Solaire Shoppes at 8931 Harlan Street in Westminster Colorado, we are across from the future Downtown Westminster development at Highway 36 & Sheridan. We enjoy brewing quality and consistent handcrafted ales, and are proud to offer 30 unique taps, including at least 27 of our own, in-house made craft beers covering the style spectrum, as well as a few guest taps of ciders and sour beer. Our craft beer selections are complemented by select Colorado wines and spirits. We will happily satisfy your hunger with great appetizers, hand-tossed pizza, artisan sandwiches and salads, and finish off the meal with desserts you would never expect from a brewpub. Our pint-sized guests love our kids' menu too. We pride ourselves on being a place where "Friends meet friends and make new ones!"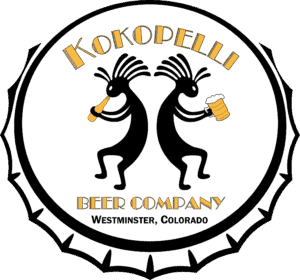 Christine and Rick, aka the Kokopelli Brew Crew, together came up with and designed the company logo. The Kokopelli represents both the Southwest and Midwest heritages. Since we planned to offer our ales in both mugs and bottles, we decided that two Kokopelli's would be needed to model the proper procedure of drinking a quality handcrafted ale. It is also by coincidence that Christine, the owner, also has twin daughters.
Kokopelli is a symbol of many Native American tribes in the Southwestern United State. Kokopelli presides over both, agriculture and childbirth. He is known as a fertility and trickster god and represents the spirit of music. While usually depicted as a humpbacked flute player, our Kokopelli finds that our delicious brews are what gets his feet moving.
CHECK OUT OUR CURRENT TAP LIST!
30 TAPS: 7 CORE ALES + MANY MORE
At Kokopelli Beer Company we have thirty taps. We offer seven core ales along with a compliment of more — ales for all occasions. Our core ales consist of a Weizen all the way up to a smooth and silky Milk Stout with every beer lovers dreams in the middle.
CHECK OUT OUR DELICIOUS FOOD MENU!
PIZZAS, SALADS & SANDWICHES
At the brew pub we offer a family friendly atmosphere where you can sit, eat and enjoy a handcrafted ale while watching one of the big screens, playing a board game or just engaging in a friendly conversation.
8931 Harlan Street,
Westminster CO 80031